The Essential Webmaster Tools
Are you an online webmaster or online vendor who wants to find useful free webmaster tools? If yes, please keep on reading this article, it will benefit you a lot.
Why You Need Webmaster Tools?
As a webmaster, you need to make use of free online webmaster tools, such as backlink checker, keyword density checker, rank checker, spider view tool and so on.
However, in order to gain good search engine rankings and site visitors, you must guarantee your site is crawled and indexed by search engines firstly. Especially your website has some complex navigation or has thousands of pages or dynamic contents. Therefore, you need to make use of a free sitemap generator to generate sitemaps for you.
Sitemap Generator
Free sitemap generator- Sitemap X is the one you should own. It's especially designed for webmasters, best of all; it's completely free of charge! Moreover, it is very easy-to-use and will crawl your site and generate sitemaps only in a few minutes!
Here are the steps of how to use Sitemap X:
1. Automatically creates Html, XML, TXT and GZ sitemaps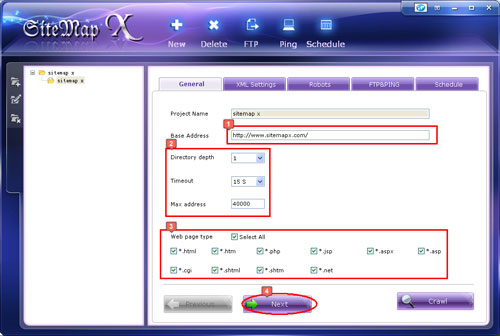 2.
Press "crawl", it will crawl your whole site and finfish in seconds. Then you can add, delete or edit URLs info based on your situation. At last, you can save and generate sitemap.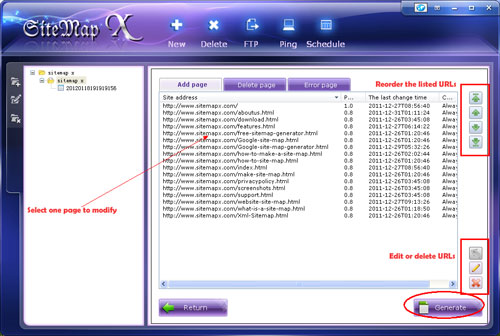 3. Instantly upload your sitemap to website server by putting into required info and ping it to search engines with several clicks.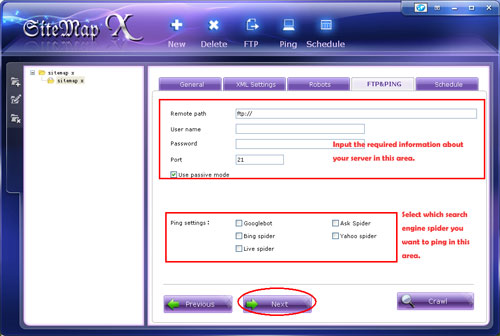 Features of Sitemap X:
No website and URL amount or size limits
Support both static & dynamic URLs
Generate sitemap according to the Google sitemap protocol
Help optimize your website and improve search engine rankings
Check out site problems such as dead links or broken links
Download Sitemap X to generate sitemaps freely now!