How to Build Sitemap for a Website?
Sitemap for a website is an easy access for visitors and search engine spiders to find all pages of a site. Now let's have a look at why sitemap is so important and how to build it.
Why Sitemap for a Website is So Important?
On one hand, sitemap for a website can tell search engines about your site structure to get them crawl your site more quickly; on the other hand, sitemap can guide users to where they want to go.
Therefore sitemap is so important, especially when your site is new or the content is not linked well or it has dynamic content or too many AJAX or images.
How to Build Sitemap
If you've got a small site, you can easily create and upload it by hands, however, if it is quite large, you should automate the process. There are so many generators available on the internet and Sitemap X is one of them which is full-featured and freely helps you crawl your website and automatically create HTML, XML, TXT or GZ sitemaps in minutes.
Moreover, it also includes built-in tools to help you do SEO better, such as discovering problems that influent your site rankings, like dead links and ping Search Engines.
Here are the basic procedures of Sitemap X:
1. By putting into your site base address and some additional info, it will crawl your whole site. Then you can generate the sitemaps.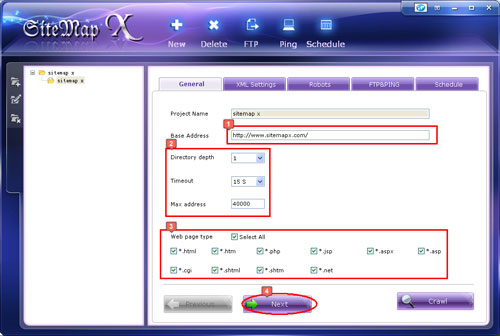 2. Fill into your FTP info and then it will upload the generated sitemaps to website server automatically.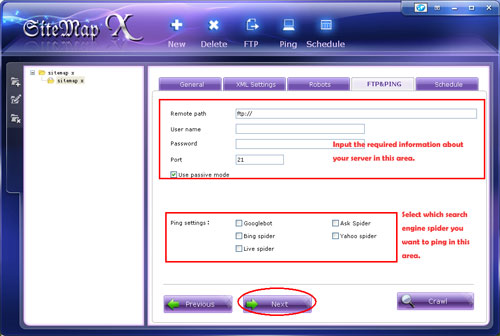 3. Use the Built-in Ping function to inform your updated sitemap to major search engines with one click.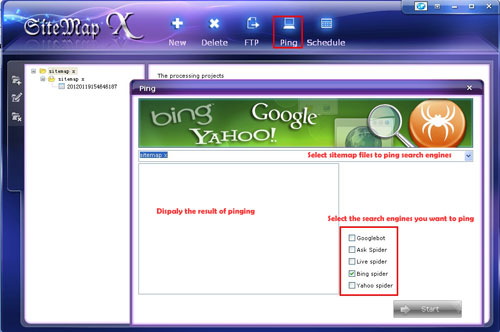 Additional Main Features of Sitemap X:
Ping sitemap to search engines with a few clicks.
Check for broken links with built-in page problem checker
No page amount and sitemap size limitations
Automatically split a large sitemap files into smaller ones
Automatically create and submit sitemap with built-in scheduler function
Want to create and submit sitemaps? Don't be hesitated, try Sitemap X and see how it works for you!